History of our Family was not transmitted through Generations as it is the tradition in many.
I found there a way to give my passion for Ancient History,time to spend.
There is no arrogance in this, just to leave something to track to my son..At the end of the day, this is my Blog and I do what I want!
When I was a child, my Grand-Mother Blanc-Garin, who was the wife of Colonel Paul Panhuys, put the seed in my head always mentionning what she was calling "la Croix Panhuys"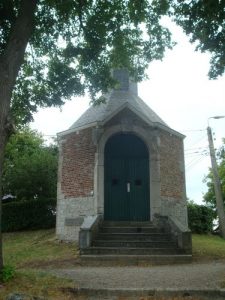 The Chapel of Halloux
(Dolhain-Limburg)
This small monument dedicated to St Ann, is the first hint to a very long story starting in year 888 in Walhorn -Limburg.
The hint is Peter Panhuys who built this Chapel in 1560 on way to his destiny in Antwerpen.
But this is another story…